We have secured wonderful accommodations for all conference attendees and exhibitors at the Ross Bridge Hotel/Conference Center in Hoover, Alabama. The hotel offers a luxurious spa, transportation, health club, and an outdoor pool. A discounted rate is being offered to conference attendees and exhibitors. Be sure to reference the "Southeast US Mine Safety and Health Conference" to receive this discount when making reservations. You must book or cancel before October 5th to take part in the discount or not be charged for late cancelation of your room.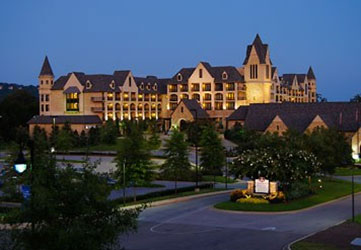 Ross Bridge Hotel/Conference Center
4000 Grand Ave | Hoover, Alabama 35226 USA
1-800-593-6419
Rooms at Ross Bridge are filling fast.

Book your room by visiting the link above. This rate is only good if you stay all 3 nights of the conference.
Ross Bridge Hotel Early Departure Fee
From Ross Bridge: Hotel may charge attendees as liquidated damages and not a penalty the amount of their remaining reservation as compensation for the harm caused to the hotel by unscheduled early departures (an "Early Departure Fee"). An early departure fee may only be charged if an attendee checks out of the hotel prior to the attendee's scheduled departure date. To the extent that early departure fees are collected from the attendees on the date as to which the conference hotel room block up to the amount of the attrition payment attributable to that date will be deducted from any rooms attrition payment that would otherwise be payable. The Conference agrees to communicate the above early departure policy to each attendee prior to, or at the time of, the making of an attendee's room reservation.  
Private Meeting/Dining Options
Private Meeting/Dining rooms are available onsite. If you would like to have a private/company meeting or meal this option is for you. Please contact Ross Bridge Hotel/Conference Center for details 1-800-949-4444.